Our major objective is to protect our customers and staff to the utmost. Therefore, more than ever, we are currently focusing on guiding and taking care of everybody.
See the measures that we are putting into practice to improve our service and ensure your safety:
Sanitizing stations in partnership with the Military
Besides intensifying the sanitization of trains and stations, which we started implementing when the pandemic first raised its ugly head,  we also entered into partnership with the Combined Eastern Command sanitize areas with a large circulation of passengers. So far, the stations Central do Brasil, Vila Militar, Paciência, Magalhães Bastos, Deodoro, Marechal Hermes, Realengo, São Cristóvão, Maracanã, Méier, Olímpica de Engenho de Dentro, Madureira, Piedade, Quintino, Cascadura, Nilópolis, Edson Passos, Mesquita, Anchieta, Nova Iguaçu, Olinda, Austin, Queimados, Engenheiro Pedreira, Ricardo de Albuquerque, Japeri, Benjamim do Monte, Bangu, Campo Grande, Cosmos, Inhoaiba, Guilherme da Silveira, Santa Cruz, Bonsucesso, Ramos, Olaria,  Duque de Caxias, Gramacho, Saracuruna, Corte Oito, Mercadão de Madureira, Pavuna/São João de Meriti and Belford Roxo have received the cleaning teams made up of members of the military.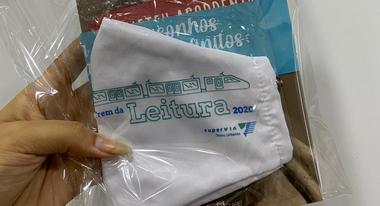 The Book Train 2020
The Book Train is one of the events included in our yearly schedule which, besides celebrating National Book Day, aims to  encourage reading. This year there were a number of new guidelines being introduced so that it could be held safely during this time of the  pandemic.This traditional handing out of books on trains and stations took place mindfully, respecting the rules laid down by the public health organizations. The books were sanitized  and wrapped up with a book marker and a cloth facemask, an item that is essential in protecting against COVID-19. Another novel action this year was the virtual format, with remote meetings with authors and the possibility to download free copies of ebooks and audiobooks from publishers Valentina, Novo Século, Intrínseca and Martin Claret.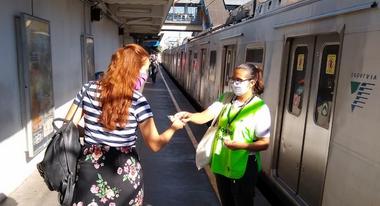 Handing out facemasks on the Santa Cruz Line
On July 8, 2020, in partnership with Fábrica Carioca de Catalisadores, we distributed over 15,000 protective facemasks to passengers at the Santa Cruz, Campo Grande, Benjamim do Monte, Inhoaíba, Cosmos, Paciência and Tancredo Neves stations. The facemasks were manufactured by the Artisanal Sewing Cooperative (Costurart) And by the Acadêmicos de Santa Cruz samba school, thus contributing to the generation of alternative income in the region, helping out 40 families in all.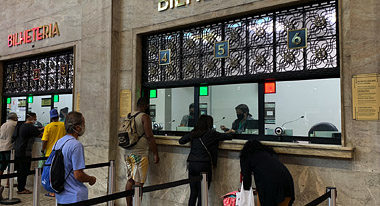 Use of protective facemasks for passengers
In order to protect the health of passengers and staff and avoid the propagation of COVID-19, the use of masks on trains and platforms is obligatory. Therefore, for everyone's sake, we only sell tickets to passengers who are using facemasks. 
*State Decree 47.060 and State Law 2869/1997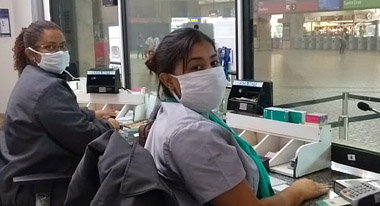 Distribution of facemasks to staff members
For everyone's safety, we distributed over 30,000 reusable cloth facemasks to both directly and indirectly employed staff members who continue to work in person on trains, at stations, in the garages and in the Operational Control Center. Each member received at least five facemasks and  the necessary guidance to ensure that hygiene and changing of facemasks are undertaken in accordance with specialists' recommendations.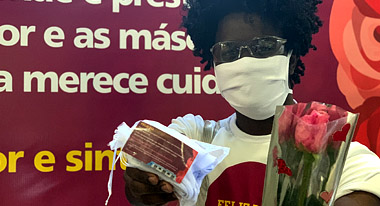 Distribution of facemasks to passengers (Operation Mother's Day)
We couldn't let COVID-19 take such an important date as this away from us. We prepared a tribute to mothers who, even during the pandemic,  keep using the trains to carry out their usual activities. Those who passed through Central do Brasil  received a kit containing three  reusable facemasks and a rose. Over 3,000 kits were distributed and the flowers were acquired from Rio State's mountain region (Região Serrana), to help small producers and boost the state's economy.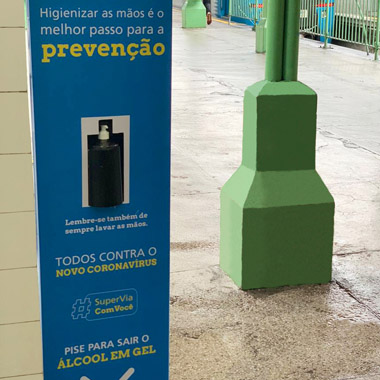 Free alcohol gel at stations
As of 30/ April 2020 we have been making available free alcohol gel at those stations that are operating. This product may be found in dispensers and/or totems which operate without the need to use your hands (one more way to avoid contamination). We have acquired 150 dispensers and 60 totems and have spread them out in strategic points at the stations. The devices were adjusted to release the correct amount of alcohol to ensure hygiene and avoid waste. Despite our efforts in taking care of our passengers, just one month after the devices were installed at the stations, we have registered 47 of them being stolen and 137 cases of vandalism*. We have since been slowly replacing the product in the affected stations and ask for everyone's support and patience.
* Data from  June 4, 2020
( State Law 8.800)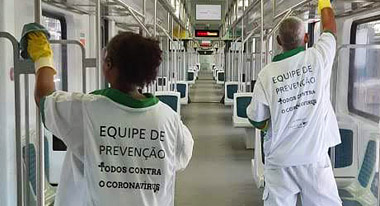 Increased cleaning and sanitization of trains and stations
Ever since the social distancing was recommended on March 14 2020, we have been bolstering the teams that work with cleaning trains and stations. We hired, on an emergency basis, additional teams to intensify the disinfection of our installations, particularly those where passengers have greater contact, such as handrails, overhead hand grips, luggage racks, ticket gates, card readers and exit turnstiles. As direct contact with the virus is the major form of contamination, this is one of our measures to control dissemination on the railway system.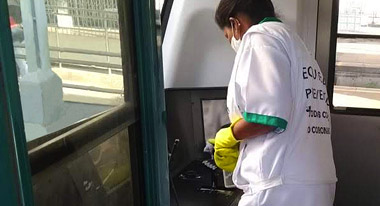 Increase sanitization at places of work
Cleaning of garages, the Operation Control Center, driver's cabin and other places of work has been increased. Besides providing new guidance for the cleaning teams, with a greater focus on disinfection, we have also provided 70% alcohol gel in our  internal workplaces,  so that staff members can maintain hand hygiene throughout the work day.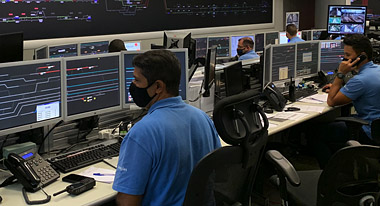 Triage and tracking the health of our professionals at the Operational Command Center
Train controllers, drivers, operational communications and all support services as well as station support, maintenance and security, are all responsible for guaranteeing the smooth circulation and security of the trains. To protect the over 60  professionals who staff the Operational Control Center (CCO), besides restricting access only to those professionals needed at the time, a health professional checks the temperature, blood pressure, heart rate,oxygen levels during shift changes and listens to the lungs and also tracks any claims of symptoms. All staff members also receive information manuals  and guidelines on how to prevent the spread of COVID-19 and the new rules on sharing work spaces.
Special care for those at greater risk
According to doctors and specialists, pregnant women, people over 60, and those with underlying health problems are more likely to develop more graver symptoms if contaminated by the new Coronavirus. Therefore, one of the first measures that we took was to separate and keep staff members who were part of this group away.
Home office
Ever since new measures to contain the new corona virus were implemented in Rio de Janeiro, we have put our whole administrative team in home office, where they continue to work today.  All of them received appropriate equipment to be able to carry on with their jobs and guidance as to ergonomics, security and safety and best practices. With this new plan in place, besides being able to take care of our staff's health, we are helping to reduce the flow of people on the streets, at a time where social distancing has become so important.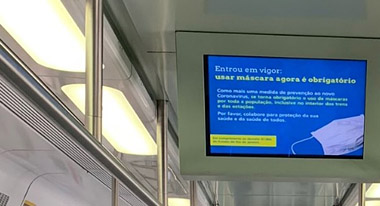 Information on trains at stations and on social media
As a means of keeping our passengers well-informed on COVID-19 and avoiding the dissemination of 'fake news', we have included specialized content throughout our official  channels of communication, based on guidelines from the Ministry of Health and with the support of public health professionals. As well as information on the disease, means of self protection and hints on personal hygiene we have also used our platforms to publish hitson physical and mental health, which are so important at these times of social distancing.
Information on welcome to staff members who I'm coming back to work
In order to return to work, staff members will have to go through medical examinations to check the state of their health.  When they restart their jobs they will receive a Welcome Kit containing a letter from HR with health and safety guidelines, as well as tips on how to deal with the 'New Normal' - 6  reusable cloth masks and a pair of eye protectors.
What we have been doing to protect the health of passengers and staff.
As we are considered an essential service, used by many workers who make up the front line in the fight against COVID-19, right from the start of the pandemic we have been taking measures to protect everyone's health. For this reason, more than ever, we have been focusing on training and taking care of everybody at this time.
Check out the measures that we have put in place to improve our service and reinforce safety for you.